PUC Affordable Housing Initiative
Here is the latest news and information on our affordable housing initiative. We will do our best to keep this page updated as the plan progresses. Below you will find the latest collateral, a press release archive and working timeline for the project. We are happy to answer questions, respond to media requests, or connect you to affordable housing resources. Please fill out the form below and we will do our best to respond in a timely manner.
Portsmouth Union Gets to Work on Affordable Housing Project
UMOI | August 15, 2018
Portsmouth Union Church in the north Portland neighborhood looks right now – from the outside – like it's in chaos. Last week, rubble from one-third of the building was strewn across the west side of the lot, there was some issue with the water, and two outhouses are now sitting on the east side parking lot. [Read More...]
UMOI | 10/29/2018
Recently more than 40 individuals from congregations throughout the Greater Portland Area gathered to discuss how they could best address the affordable housing crisis. They met on October 13th at Portsmouth Union Church, which is led by Pastors Julia Nielsen and Andy Goebel.[Read More...]
Public Theology Podcast | December 4, 2017
Hosted by Christ Church PDX
featuring Andy Goebel & Julia Nielsen, co-pastors of Portsmouth Union Church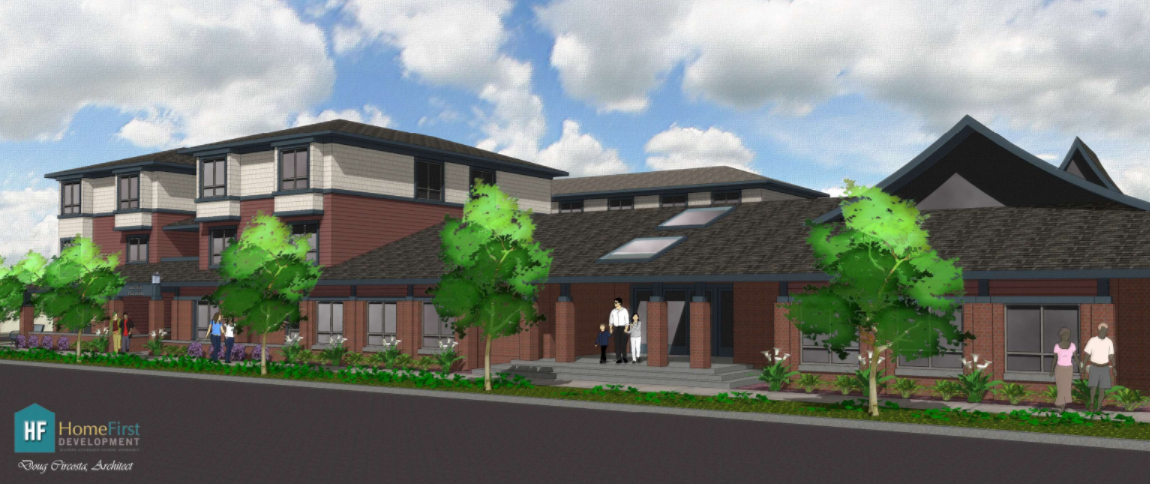 Affordable Housing Ideas for Churches...
The Oregonian | March 22, 2017
"I think the churches are huge," Justus said. "It really opens the doors for so many more units because of how much land they own... Everything begins with the land, and in the metro area, land is harder to find." [Read More...]
Portland Church Answers Call for Affordable Housing
KOIN 6 | August 3, 2016
In this housing crisis, the people at University Park United Methodist Church in North Portland are taking matters into their own hands. For Pastor Andy Goebel, it's not enough to just preach scripture. He says their mission is to "do justice, love, mercy and walk humbly with God."
The church plans to build new, affordable housing for dozens of families. [Read More...]
Frequently Asked Questions
---
+ When, Why, and Who decided to build affordable housing at the corner of Lombard & Fiske?
---
University Park United Methodist Church (UPUMC) began this discernment process and development planning in fall 2014. The congregation was seeking a financially sustainable, missionally creative, and community-focused ministry that would allow us to use our resources to serve the needs of our city. By the fall of 2017, St. Johns Community Church had been worshipping and serving together for almost two-and-a-half years and the two congregations officially became Portsmouth Union Church.
Isaiah 58:12 serves as a grounding scripture for our vision- "Your people will rebuild the ancient ruins and will raise up the age-old foundations; you will be called Repairer of Broken Walls, Restorer of Streets with Dwellings."
+ Who from Portsmouth Union Church is working on this initiative?
---
Pastor Jules and Pastor Andy are leading the congregation through the process and a handful of smaller groups are handling the details.
Affordable Housing Taskforce: Stephen Hicks, Stephanie VanRheen, Lisa Horne, Scott Jensen, Betty Cruson (previously, Wayne Harrel, Grace Chisholm and Cory Haller)
Communications Workgroup: Megan Cutler, Wayne Harrel, Scott Jensen, Darrell Grenz, and Stephanie VanRheen
2018 Focus Group Workgroup: Andy Goebel, Lisa Horne, Kate Rohl, Darrell Grenz, Stephanie VanRheen
+ Why Affordable Housing?
---
According to late 2017 statistics...
The Portland Metro area has just 13,000 affordable units – 25,000 fewer than needed.
In the greater Portland area, the deficit is now 44,000 units
Median rent is $1,805: our apartments will aim to be between $750-1000.
To learn more about the state of housing in Portland, check out the highly informative GPP Housing Data Hub.
+ What is Bell Tower LLC.?
---
Bell Tower LLC. was formed as a separate legal entity to act as the "owner" of the housing development. The officers of the LLC. are members of the Portsmouth Union's Leadership Team and Board of Trustees, but this structure helps to mitigate the risk to the church itself.
+ How many units will there be? Will they be studios, 1 bedroom, or 2 bedroom units?
---
Final design decisions will be based on city approval, but draft plans call for 20 units (10 one-bedroom minis, 10 two-bedroom minis)
+ What does affordable mean? Are all of the units going to be affordable?
---
Affordable, in this context, means that no more than 30% of an individual or family's income is spent on housing. The way it is often talked about is that our apartments will be affordable to people with an income that is between 30-60% MFI, which is considered very affordable.
MFI stands for Median Family Income. The median family income for Portland was $82,734 in 2016. This means that a family with an income of $24,820 should not have to pay more than 30% of their income on rent- roughly, that shakes out to $620/month. On the higher end of the spectrum, at 60% MFI, or $49,640 annually, rent would be closer to $1,200/month.
Yes, all of our units will be affordable, however the precise MFI percentage for each unit may vary depending on a number of considerations.
+ Who is going to manage the property?
---
The Taskforce has developed a competitive process to contract with Property Management company who will manage the apartments, inclding facilities, rents, and leasing. The process is called a 'Request for Proposal (RFP) and will be sent out to a collection of respected Property Management companies from around the Portland Metro area near the end of April 2019. Successful responses to that RFP will create a pool of potential property management companies for us to interview in person, followed by developing contracts for the purpose of outreach to and leasing up of tenants.
Our vision for that property mangement relstionship is to provide professional, experienced, and equity-focused technical support for the purpose of handling day-to-day operations of the facilities and tenants needs onsite. Our ideal property manager will use trauma-informed and equitable practices that take into account both the needs of our diverse residents and our technical needs as owner/developers of faith-based affordable housing in North Portland.
+ How much space is the church sacrificing?
---
The current fellowship hall was demolished Summer 2018 to create space for apartments. Our bathrooms and aging roof were also redesigned and updated for greater accessiblity and improved quality. We sacraficed our full-size kitchen, though we continue to have a small kitchenette for community use, which will need to be updated in the future.
+ Who is going to pay for the changes to the church building?
---
The cost of demolition and reconstruction is integrated into the housing financial plan managed by our church-run LLC, Bell Tower. Nearly $130,000 was contributed by the housing project to the demolition and updating of the roof and existing building, including two new restrooms. Any additional improvements PUC would like to add in the interior space will be our responsibility as a congregation.
+ When will construction happen?
---
Because of the changes to the lot line, demolition of at least the fellowship hall had to be completed before the City review process could begin in earnest. This meant that there was be an impact to our Sunday morning gathering space for about 90 days in the summer of 2018. We did our best to minimize impacts and ADA accessible porta potties were made available for the duration of demolition.
Once we have successfully contracted with Home First Development and with our General Contractor, as well as completed the permitting process, construction will begin. Depending on requirements made by the City related to permitting, we are currently estimating construction will begin in late summer 2010.
---
Home First Development is our owner's representative and has been guiding us through this journey since early conversations in 2015. Home First was founded on the principle that everone deserves access to safe, affordable housing and on the strength of their partnerships in the community. Rob Justus and Ben Prey are the principal developers and work with a team of strategic partners including architects, associates, and construction companies.
+ How much and how are we paying for this project?
---
How Much: Subject to the City's final approval of our plans, the entire project costs approximately $2.334 million, but will only require a $1.636 million loan (Beneficial Bank) because we have $300,000 land value and $323,000 cash from the sale of church's Yale Ave. parsonage in 2017.
How: Rents will more than cover monthly mortgage payments for the lending agreement, over the course of 30 years.
+ What is "Land Use" and why is the City making this so complicated and costly, especially when we are providing affordable housing during a housing crisis?
---
The church lot is zoned R1 (medium residential). Because we have a church in a residential zone, it is referred to as a Conditional Use. To "split the lot" we are essentially shrinking the amount of land that is deemed Conditional Use, then using the Property Line Adjustment (PLA) process to determine the new property line. The "new" lot will need to follow the development standards for Planning Code 33.120 Multi-Dwelling Zones (Also, effective May 2018- Full Zoning Code)
There may be opportunities for exceptions, waivers, and adjustments to the rules and fees, but we still have to follow the established process and that inevitably takes time. Rob and his team, as well as other staff even within the Bureau of Development Services are eager to usher this project through, but even with support, there will be obstacles to navigate.
+ How are we engaging our neighbors in this process?
---
One of our early partners was Meyer Memorial Trust. We were granted $11,000 for technical assistance and training, followed by $70,000 in capital funding for construction.
We spent that technical assistance/training money through three main channels - 1) facilitated congregational and community learning opportunities, 2) targeted focus group outreach to reveal unknown expectations, and 3) documentation and story-telling.
Congregational & Community Training Roster

Relational One-to-Ones
Fair Housing Laws- Community Alliance of Tenants
Equity Training- Portland Hearing Voices
Community Organizing- IAF Leadership Institute
Trauma Informed Care
Assertive Engagement

2019 Focus Group Schedule

March 11th 12-2pm (Congregational focus)
April 19th 12-2pm (Social Services group)
June 21st 6-8pm (Neighbors group)

Spiritual Groundbreaking Newsletter

Follow and subscribe to hear in-depth reflections from our Pastors through the ups and downs and lessons learned along the way.
+ How can I get involved?
Advocacy | As of August 2018, the City approved our demolition permit to make room for the future apartments, but in the coming months we will be navigating even more complex regulations to get the seal of approval to break ground on the units. There may be opportunities to stand with us in that process.
Financial Support | Our financing plan is solid, but with construction costs rising daily and big dreams for what this future community can be, we welcome monetary donations of any size. Check out our GIVE page for more details and feel free to reach out to connect in person if you want to learn more before giving.
Land & Housing Coalition | Are you part of a faith community that is interested in learning how your own property could be used to provide affordable housing? The Leaven Community Land & Housing Coalition is providing training and resources for interested cohorts now. Cohort I has nearly completed their 6 month training process and we're ready to add churches to Cohort II. Our pastors are part of the Housing Organizing Design Team and are excited to connect you with the Coalition. Email jules@portsmouthunion.org or andy@portsmouthunion.org to sit down and talk about how to get involved. You can also learn more at http://www.leaven.org/land-housing-organizing
Affordable Housing Process Guide
Discerning Whether Your Faith Community Should Build Affordable Housing:
Process Guide & Technical Manual
By Portsmouth Union Church and the Leaven Community Land & Housing Coalition
Affordable Housing Partners
Ask Us A Question
Do you have a question or idea about the project? Our Affordable Housing Task Force would love to hear from you.
Subscribe to Project Updates
We also have a mailing list that we use to update you about affordable housing project news.
You can sign up here:
Contact Info
EMAIL
info@portsmouthunionchurch.org
PHONE
(971) 533-7276
ADDRESS
4775 N Lombard St.
Portland, OR 97203